GREASE TRAP PUMPING IN PHOENIX
Phoenix Grease Trap Pumping
Grease Trap Pumping Services in Phoenix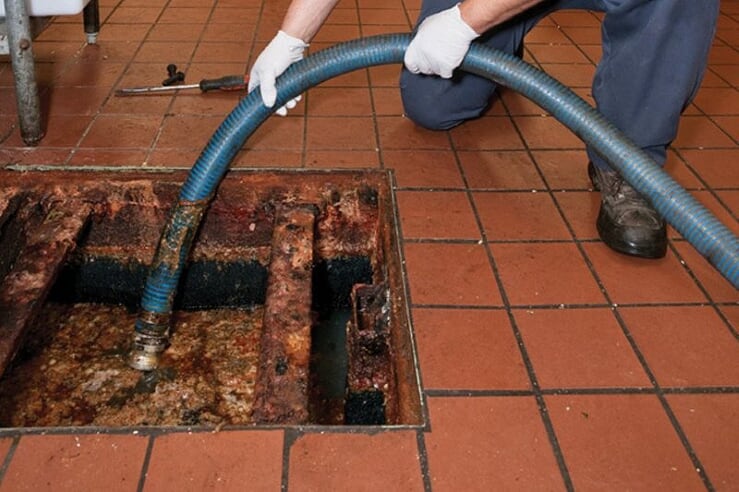 Today's food service establishments in Phoenix tend to be larger industrial kitchens. Standard plumbing and grease management systems just can't cope with the massive amounts of grease, food solids and other sludge that threatens to contaminate the city sewage and water treatment facilities. So, the owners of these businesses install larger, heavy-duty pipes to cope with the generated waste products. This is necessary to comply with the increasingly strict health and safety regulations imposed by the local authorities. But there is a trade-off. The maintenance and cleaning of modern equipped kitchens is fairly complex, so it cannot be left to amateurs. Read on to learn more about grease trap pumping.
Standard pumping equipment cannot handle the load of the increased volume of the heavier duty waste capturing systems that modern food serving establishments are equipped with. Phoenix Grease Trap Cleaning Services are experts in the field, and our team of professionals are fully trained and equipped with the latest, most powerful pumping system, permitting us to efficiently service your grease traps in short order, saving you time and money. Our staff is provided with an entire fleet of late model pumping and waste collection trucks, and they know how to use them effectively. We are second to none with our knowledge and experience in grease trap pumping and cleaning. Why put this important job in the hands of a less experienced service provider, putting your company at risk fines from the local health and safety codes? Call us today!
If you operate a commercial food serving establishment you need grease trap pumping
Many factors are examined to determine what is needed in order to be certain that your grease trap is maintained in like-new condition.
Phoenix city health and safety regulations require that all food service establishments and commercial kitchens must properly maintain and service their grease traps in order to keep them open and prevent them from overflowing or spilling into the sewer system or the environment. Regardless of how much you try to keep your grease trap clear, it will need to be periodically pumped and cleaned. The frequency of your pumping schedule will depend upon:
● How many food servings you serve in a fixed period of time
● The GPM your plumbing is rated at and the volume of your grease trap
● The thickness and composition of the combined food waste
● The ratio of fried, greasy food compared to non-fried food
What is the average cost for grease trap pumping?
Because of the many factors concerning the composition of your food waste, the volume per day, the setup time and other variables, it's impossible to give an accurate estimate of cost without an on-site evaluation.
Another thing that must be taken into consideration is the location and accessibility of your grease trap. Is there an access area that's large enough for a pump truck? If the answer is no, the setup and preparation time could increase the cost significantly since the grease trap is more difficult to access. 
There are many other details that need to be looked into before an accurate estimation of cost can be made. We will be happy to have a free in-house consultation with you, with absolutely no obligation to you. Just call to set up an appointment.
Creating a timely grease trap pumping and cleaning schedule
Because grease traps are hidden from view and perform their duty without any significant interaction with the food serving establishment owner, it's easy to just forget about the importance of keeping a regular pumping and cleaning schedule. This can be problematic since it is possible your grease trap can exceed its capacity without a moment's notice, causing overflows, spills and other hazardous emergency conditions. This would incur greater expenses than simply following a planned schedule, billed at agreed upon rates. It could cause you to be required to shut down operations during peak business hours, or even for days.
So, let's not forget about the importance of regular, scheduled maintenance of your grease trap. There's no reason in the world to incur needless expenses and waste of time because of negligence.
Why don't you call us today, for a free in-house consultation and put to rest any possibility of putting at risk the health and well-being of your guests, employees and even your livelihood. It's free and you are under no obligation. Our number is 602-223-1937
Phoenix Grease Trap Cleaning Service is the most reliable service provider in the area!
While there are many grease trap pumping service providers out there, why is it that the majority of food serving establishments choose Phoenix Grease Trap Cleaning Services over others?
The first thing that puts us at the top of the game is our years of experience. Our professional team of grease trap service experts are world-class at what they do. While we are not the cheapest around, you know the old saying – you get what you pay for. That said, we actually save you money and time over our competitors because we do the job right the first time. We take no shortcuts, leaving your grease trap in like-new operating condition when we are done.
Our team is better equipped than our competitors, hands down. We invested in state of the art powerful industrial vacuum pumps, as well as all other necessary equipment to perform top-notch service. Our modern fleet of high capacity pump trucks is at the disposal of our men, assuring no delays from start to finish.
Lastly, we offer monthly billing plans to meet every need and budget. That way, you only receive services you really need, and pay only for what is absolutely required. So why don't you set up a free, in-house consultation with us today, with no obligation. You'll be glad you did! Call us now, at  602-223-1937
GET A GUARANTEED CALL BACK
FROM THE OWNER
Affordable & Reputable Grease Trap Services